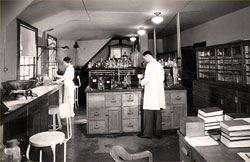 Automator World is dedicated the Mac OS X scripting application Automator. Automator World is a clearinghouse of user-contributed Workflows and Actions, as well as Automator information, news and tips. Submitted Workflows are sent down to the Automator World Labs (right), where they are subjected to a rigorous battery of tests by our dedicated team of researchers and testers. At Automator World we are committed to ensuring the highest quality Workflows and Actions for a demanding public.


Steve Weintraub – Editor & Admin
Steve is a publishing technology and workgroup authority with over 20 years experience in managing a diverse array of pre-press, imaging and workflow strategies. Having worked with many of the top New York publishing, advertising and fashion studios, he is intimately knowledgeable with the challenges of creating customized automation and workflow software for demanding clients.
Colophon
Logotype – ITC Anna, DIN-1451 Mittelschrift
Icons – Dinc Type
Hosting – TextDrive
Platform – WordPress


Automat
"A coin-operated glass-and-chrome wonder, [Horn & Hardart's](http://www.theautomat.net) revolutionized the way Americans atewhen they opened up in Philadelphia and New York in the early twentieth century. In a country where the industrial revolution had just taken hold, eating at a restaurant with self-serving vending machines rather than waitresses and Art Deco architecture instead of stuffy dining rooms was an unforgettable experience. By the peak of its popularity–from the Great Depression to the post-war years–the Automat was more than an inexpensive place to buy a good meal; it was a culinary treasure, a technical marvel, and an emblem of the times."
1346